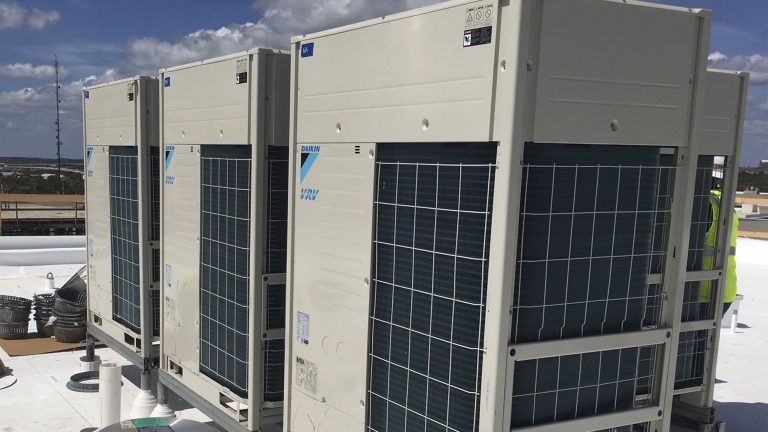 Definition of VRV and VRF System
VRV and VRF systems are modern and advanced air conditioning systems, representing a new era of highly efficient cooling systems worldwide.
VRF or VRV air conditioning stands for "Variable Refrigerant Volume."
It is a part of air conditioning systems for buildings with different cooling loads, providing a wide range of applications for hotels, towers, schools, government institutions, residential buildings, and more, with simple control and management.
VRV or VRF system was discovered and developed by the Japanese company Daikin in 1982. Other companies followed suit and produced this system with their own names, such as LG "Multi-V," Midea, Samsung, Gree, Toshiba, and Mitsubishi.
Al-Fawwad for Air Conditioning and Electromechanics is one of the first companies in the Kingdom that introduced VRV or VRF technology to its customers, assisting them with comprehensive information about the system in various projects across the country, including the "Council of Health Assurance Tower project on King Fahd Road in Riyadh, Morina Hotel, and several other commercial and residential projects."
Operation and Components of VRV or VRF Air Conditioning System!
At Al-Fawwad for Air Conditioning, we always keep up with technological advancements in the field of air conditioning, maintaining our commitment to social responsibility by introducing energy-efficient and highly efficient modern systems to our valued clients.
A VRV or VRF air conditioning system consists of one outdoor unit connected to multiple indoor units of various types, such as concealed, cassette, wall-mounted, and more.
The compressors operate using inverter or digital technology, depending on the manufacturer of the air conditioning system, with non-traditional methods.
These systems have smart electronic boards that receive all the data from the indoor units and the required cooling loads for each unit.
The data, known as the "required cooling load," is then sent to the compressors, regulating and significantly reducing energy consumption compared to other systems.
The copper piping network between the indoor and outdoor units can extend up to 1000 meters (100 vertical + 900 horizontal), providing solutions for high-rise buildings and towers where no dedicated space is allocated for outdoor units.
Connecting multiple indoor units to one outdoor unit helps save surface area and prevents the accumulation of outdoor units on building and house rooftops.
Are VRV or VRF Air Conditioning Systems the Best Choice Today?
VRF air conditioning is considered one of the integrated modern solutions, as it has achieved the following essential aspects:
It consumes less energy compared to any other air conditioning system, providing estimated cost savings on electricity bills compared to other systems.
It significantly reduces malfunctions because it minimizes the size of accessories used compared to other systems.
Faults can be electronically detected and identified through the system, and the system can be connected to the internet to receive notifications and diagnose potential issues before they occur.
It reduces noise and vibrations resulting from outdoor units.
For any further inquiries!
Al-Fawwad for Air Conditioning and Electromechanics provides all the solutions and proposals for implementing commercial and residential VRF or VRV air conditioning systems across various locations in the Kingdom, as we are one of the largest authorized distributors for global air conditioning brands.
Don't hesitate to request a price quote or ask any questions about the VRF or VRV air conditioning system or any other air conditioning system. Our engineers are waiting for your request and ready to assist you.
Simply click "Request a Price Quote Now" or call our numbers 0125442000 or 0126911242."